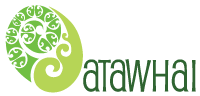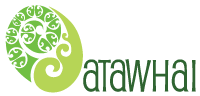 The meaning behind the ATAWHAI logo is the two koru represent the student and the other being whanau/community supporting them. The koru shape symbolises new life, growth, and a connection to papatuanuku (Mother Earth).
The mangopare shape within the koru shape represents the values that we are instilling in them whilst they are participating in our ATAWHAI programme. The mangopare shape symbolises natural abundance, strength and determination.
Our Whakatauki, our motto
'Whaia te iti kahurangi, ki te tuohu koe me he maunga teitei'
Pursue that which is precious, and do not be deterred by anything less than a lofty mountain.
A proverb which encourages one to strive, to set goals, to persevere.